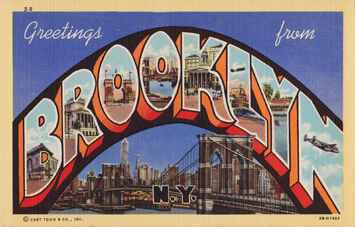 Brooklyn is the most populous of New York City's five boroughs, with approximately 2.5 million residents, and the second-largest in area. Historially a magnet for immigrants, it represents a unique and diverse culture.
In Brooklyn
Edit
Atlantic Av hub
Barclay's Center
Brooklyn College
Coney Island
TV Shows for Programing
Edit
Nature Cat (2016-present)
Oswald (2001-present)
Franklin (1998-present)
Max and Ruby (2002-present)
Wow Wow Wubbzy (2006-present)
TV Schedule for Kids on New York City of Channel 29
Edit
7:00am Oswald
7:30am Franklin
8:00am Wow Wow Wubbzy
8:30am Wow Wow Wubbzy
9:00am Nature Cat
9:30am Nature Cat
10:00am Max and Ruby
10:30am Max and Ruby
Ad blocker interference detected!
Wikia is a free-to-use site that makes money from advertising. We have a modified experience for viewers using ad blockers

Wikia is not accessible if you've made further modifications. Remove the custom ad blocker rule(s) and the page will load as expected.