Central Park
Type
Urban park
Created
1857
Location
Between 59th Street and 110th Street, and Fifth Avenue and Central Park West
Architect
Frederick Law Olmsted, Calvert Vaux
Management
Central Park Conservancy
Borough
Manhattan
Area
843 acres
Visitors
37.5 million
Central Park is a public park at the center of Manhattan. It welcomes more than 35 million visitors a year and is the most visited urban park in the United States. From guided tours and sports to sightseeing or just plain relaxing, Central Park is New York's backyard.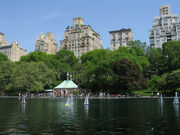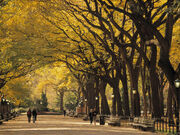 Ad blocker interference detected!
Wikia is a free-to-use site that makes money from advertising. We have a modified experience for viewers using ad blockers

Wikia is not accessible if you've made further modifications. Remove the custom ad blocker rule(s) and the page will load as expected.