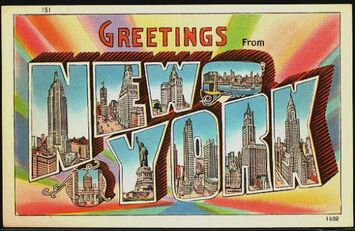 Manhattan

The Essentials

Settled
1624
Population
1,585,873 (2010)
Demomym
Manhattanite
Transit Line
TBD
Attractions
Empire State Building, Rockefeller Center, Chrysler Building, Times Square, The Metropolitan Museum of Art, Solomon R. Guggenheim Museum, American Museum of Natural History, Central Park, Madison Square Garden
Manhattan is a borough of New York City, and probably the most famous of the five. It's home to over 1.3 million people, and the most impressive skyline on Earth.
This page requires attention, as it gives scant information on a required topic. You can help New York Wikia by adding to it.
MICRO-HOODS:
TriBeCa (Triangle Below Canal)
Lower East Side
East Village
West Village
Meatpacking District
Chelsea
Battery Park
Upper East Side
Upper West Side
Mid-town
Flatiron District
Union Square
Theatre District
Hell's Kitchen
Wall Street
Chinatown
Gramercy
SoHo (South of Houston)
Ad blocker interference detected!
Wikia is a free-to-use site that makes money from advertising. We have a modified experience for viewers using ad blockers

Wikia is not accessible if you've made further modifications. Remove the custom ad blocker rule(s) and the page will load as expected.