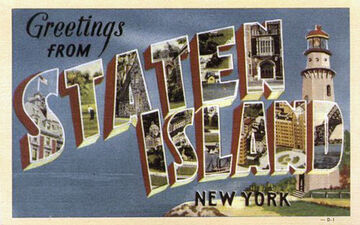 Staten Island

The Essentials

Settled
1661
Population
468,730 (2010)
Demomym
Staten Islanders
Transit Line
TBD
Attractions
Fort Wadsworth
Staten Island is the least populated and most suburban of the five New York boroughs. It is separated from the rest of New York by the New York Bay.
Ad blocker interference detected!
Wikia is a free-to-use site that makes money from advertising. We have a modified experience for viewers using ad blockers

Wikia is not accessible if you've made further modifications. Remove the custom ad blocker rule(s) and the page will load as expected.